My wife and I went down to catch brunch at Banger's on Rainey Street in Austin today. If you haven't been to Rainey street in general, or Banger's in particular, you gotta check it out. This place is great.
They serve a Sunday brunch menu, along with their normal selection of excellent sausages. Today, they also had "Manmosas", which is basically a German Oktoberfest-style liter beer mug, filled with a bottle of champagne and some orange juice. I was tempted, but passed. Instead, I had a glass of Lagunitas Sucks, and excellent IPA that is served in a smaller glass. My one carb indulgence this week.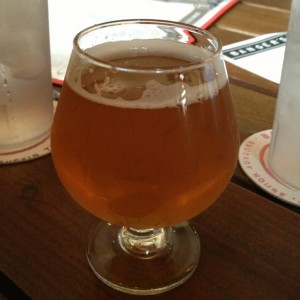 For food I got their "Kitchen Sink", which is beef tongue hash covered with two fried eggs, two pieces of bacon steak (thats my fat forefinger next to a slice), a couple of small but tasty, spicy sausages, and country ham. I passed on the grits and toast, as I'm doing the low-carb thing since hitting "Peak Plein" about the time of the Super Bowl.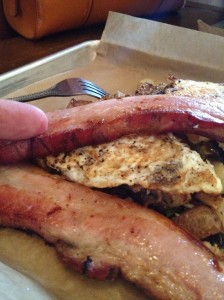 I highly recommend checking out Banger's. They have great live music, they are dog friendly (see Mutt Monday's, their dog-friendly happy hour on Mondays), and they have a great beer garden in which to sit under the trees, drink one of their 100 tapped beers, and enjoy life.  Follow them on Twitter at @BangersAustin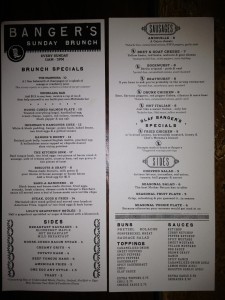 Oh, another thing… they offered samples of some wild game as well as a gumbo they were making. I had the smoked nutria (aka swamp rat). It was good!