I whipped up a batch of baby back ribs on my Traeger grill yesterday. OK, maybe whipped isn't the right word.
I bought 3 racks of ribs from the local butcher on Friday.  These were not pre-packaged/sealed/prepared, just plain ribs. Saturday night, I mixed Pappy's rub (their reduced sodium offering) with sugar, and rubbed down the 3 racks of ribs. Wrapped them in parchment paper and then foil (I didn't have any butcher paper, didn't want them to sit in foil overnight.)
On Sunday I fired up the Traeger, put the ribs on "smoke" level (~170 deg) for about an hour, and then bumped them to 225 for another 3 hours. From time to time I'd squirt a little apple juice on them to keep them moist, but they really didn't need it.
After a total of 4 hours in the grill, they looked something like this: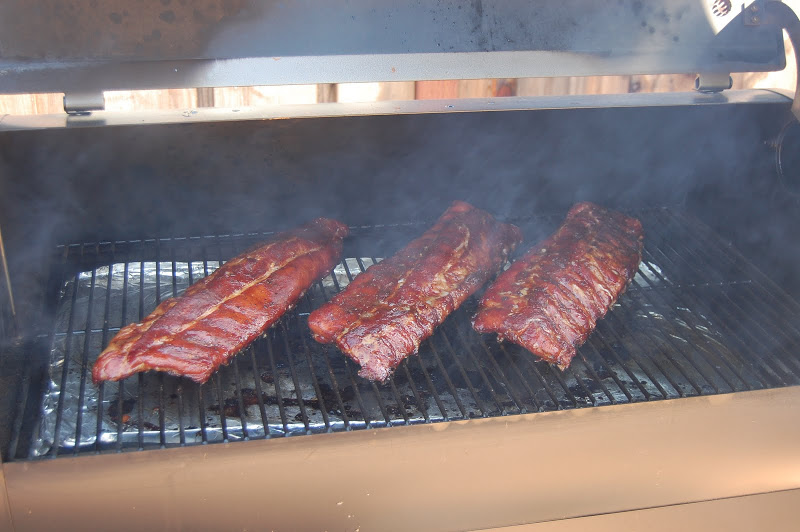 At that point I had a few people to satisfy as far as sauces (or lack thereof). So I put generic BBQ sauce on one rack, Thai chili sauce on a second, and left the third rack plain (no sauce).
All three were excellent. BBQ sauce for those that like'm that way, and the Thai chili sauce was great because it's super sweet and a little hot.  The natural ribs were, in my opinion, the best.